Larry Henson Live!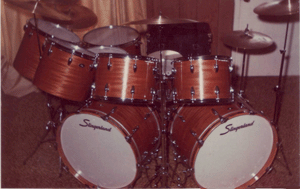 Purchased New - May, 1973
1973 Slingerland 57-N Jazz Rock 11-piece double bass kit with optional concert toms.
Mahogany Finish
Bass drums: Two 14x24
Toms: 10x14, 10x15, 12x15, 14x16, 16x16, 18x20
Tunable bongos
Snare: Very rare 1979 Total Dynamic Response (TDR) Two-to-One with 12 lugs on the top and six on the bottom.
Cymbals: Crash -- A Zyldian 18" medium, 18" thin, 17" thin, 16" thin
Ride -- A Zyldian 21" Medium Ride, 20" Ping Ride
Zyldian Flash Splash 10" ZXT Titanium
A Zyldian 14" New Beat High Hat
A Zyldian 15" closed High Hat
Original cost in 1973: $1,600
Restoration includes two Pearl 501C Icon racks with Pearl stands and Eliminator pedals. Rhythm effects include TreeWorks Tre-44 chimes, Ridge Rider Cowbell, Pearl Quick-Draw Tambourine. The restoration also involved adding bottom heads to the concert toms with original Slingerland hardware. All toms are mounted with Pearl Optimount systems. Bass and snare batter heads are Remo P4 while tom batter heads are Remo Pinstripe Hydraulic. Thirteen Nady drum mics provide sound reinforcement.
The restoration work was assisted by the skilled staff at the Memphis Drum Shop. www.memphisdrumshop.com
2004 Prior to restoration.
Mixed hardware, no bottom heads much rust and nicotine stains.
Drummers-eye view after restoration
End view with tunable bongos mounted on rack.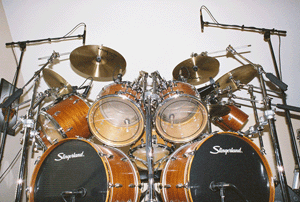 Fully restored in 2007 with new front logo heads and mics
.
Compact Five-Piece Club Setup